I'm sure you've heard about the happenings in the political scene of Burkina Faso today. But just in case you haven't. According to
Aljazeera

,
hundreds of people broke through a security cordon and stormed the National Assembly building in the capital city, Ouagadougou few hours ago.
Now,
is there any Good news in all these bad news?
Yes. And yes. Heart Rays gives out the light in this dark world. *grins*
The good news is the people of Burkina Faso have finally woken up from their slumber. The people are protesting that 27 years in power is enough for Compaore. (Blaise Compaore has been the president of Burkina Faso since 1987.
Choi!
) President Compaore has been elected four times already and there is a bill proposing that he could be re-elected the fifth time.
But maka why na?
Even if he is my biological father, I'll join this protest.
Walahi!
I like the spirit of coming together and fighting with one voice. "Enough is enough!"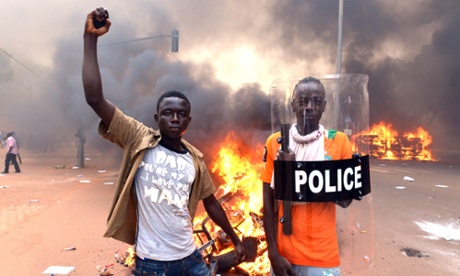 Nigeria, we can do this. Can't we? Oh, I almost forgot there are the Igbos, the Yorubas, and the Hausas amongst us.
Until then. . . Never under-estimate the power of the people with one voice!
Thanks for reading. :)
You might also like the good news on
Ebola
(News Source: Aljazeera)
Heart Rays ...giving out the light.
Written by

Nwamaka Ajaegbu
Twitter:

@Amakamedia
Email:

amakamedia@gmail.com